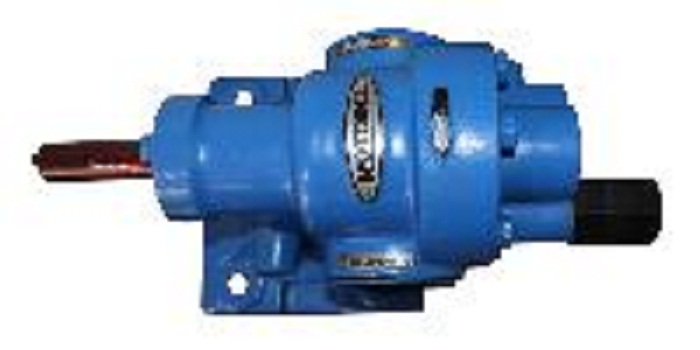 Rotary gear pumps are positive displacement pumps that consist of a rotor and ideal gear assembly. They are used for the displacement of fluid or liquid in various sectors. The displacement takes place in the space between gears and is very useful for displacing highly viscous fluid.

How do These Gear Pumps Work?
This gear pump has a rotor and an idler gear that is located externally and internally, respectively. When the rotor gear begins to rotate, the idler also starts rotating with the teeth that begin to mesh. The two gears have a space between them that takes in the fluid and then displaces it. This helps in getting a clean fluid as the output product. The displaced fluid is discharged from the ports connected to the pump.

What are the Features of Gear Pumps?
There are many features of gear pumps due to which it is largely used in the industrial sector. The pump can easily take high pressure and is highly efficient with thin liquid. The hardened components such as stainless-steel casing, chrome oxide shaft coating, etc. make it highly efficient and strong.

Since these pumps are used for displacement of liquid, they are non-corrosive. This gives them a longer life and is highly durable. The sturdy construction and the perfect design of these pumps make them reliable. The chances of leakage through these pumps are less as they have a very low tendency of leaking and less noise.

What are the Benefits of these Pumps?
One of the biggest advantages of these pumps is that they are reliable. Since they are designed in a manner that keeps them sturdy, the users can rely on the pumps for the displacement of viscous liquid. Unlike many other industrial pumps, these pumps do not require high maintenance. They are also cost-effective and do not require a high budget to buy them. A rotary gear pump supplier in any city will offer these pumps at a low price and provide discounts on bulk orders.

These pumps are designed in such a manner that makes it easy to clean internally and externally without any problems. Hence, you do not require special training for maintaining or cleaning the pump. Another benefit of using these pumps is that they can handle any type of pressure. They can control the flow of the fluid that passes through it and hence, are safe to use.

Where are these Gear Pumps Used?
Many rotary gear pump exporters in India export these pumps to various industries in different countries. The industries that cater to lube oils and fuels, alcohols, glycol, starch, chocolates, inks, soaps, resins, asphalts, base oils, etc. use these pumps.

How to Buy the Gear Pumps?
There are some of the best manufacturers in Gujarat that manufacture various types of pumps. They manufacture pumps in various capacities and power. You can choose a leading rotary gear pump manufacturer Gujarat to place your order in bulk and get the gear pumps at the most reasonable price.
This entry was posted on May, 09, 2020 at 13 : 32 pm and is filed under Rotary Gear Pumps. You can follow any responses to this entry through the RSS 2.0 feed. You can leave a response from your own site.