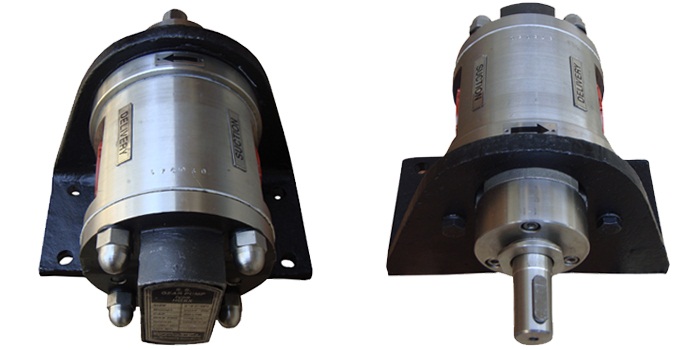 Bitumen and asphalt have been construction mainstays these days and have the challenges that should be overcome in their handling. Bitumen pumps play a prominent role throughout asphalt production and supply chains. These pumps are an effective implementation that is able to meet the challenges of handling asphalt and bitumen.
Bitumen pumps are ever-present in almost all industrial manufacturing facilities. These pumps are required all along asphalt's production and supply chains. They can be also found at refineries where raw asphaltic products are produced, terminals where various asphaltic products are stored, hot-mix plants where paving products are produced and roofing material manufacturing plants where shingles and other roofing materials are produced.
Generally, bitumen pumps are the internal gear pumps, specially designed to pump and handling high viscous materials like bitumen, bitumen emulsion, asphalt, heavy oil, coal tar, soap solutions, colloids, etc. Apart from this, these pumps find their applications in the fields of food, pharmaceutical, construction, etc. To overcome the problems of maintaining a flowing state necessary for efficient handling of these liquids, the bitumen pumps feature complete jacketing of all external parts and extra clearances on all working parts. Additionally, the rotor bearing sleeve jacket prevents the heavy viscous liquids from hardening or congealing in the packing or mechanical seal box, providing effective shaft sealing and consequent leak-resistance. Individual chambers surround the casing, head, and rotor bearing sleeve, which is provided with separate openings for connections with heating or cooling lines.
Features and benefits of bitumen pumps:
These bitumen pumps have certain features that make them very useful and efficient. Here are some of the benefits of using these pumps for different applications.
• High strength and sturdy in nature: These essential tools are high in strength and are sturdy in nature. Therefore these pumps can withstand any kind of jerks and harsh movements.
• Manufactured with superior quality materials: These useful pumps are fabricated by making use of high-quality materials like stainless steel and components. They are rust-proof and thus, do not lose their efficiency easily.
• Low maintenance: Because of their high-efficiency, sturdiness, and rust-proof nature, the bitumen pumps do not require much maintenance. These pumps can serve their purpose efficiently without the risk of any kind of faults and malfunction during the working process.
• Long-life guarantee: The bitumen pumps are very durable and therefore ensure long life terms to serve their purposes. Skilled professionals use the latest technologies to accomplish the production of these bitumen pumps.
• Low-cost price: The bitumen pumps are available at a very reasonable cost. These pumps are also easily available in the market nowadays, in all parts of the world.
• Quality tested: These pumps are always passed through the highest level of quality check to ensure the 100% accuracy before supplying them to the user end. These pumps are finely polished and properly packed so that they reach the customers in good condition.
There are many top bitumen pump manufacturers in India, indulged in fabricating the pumps in compliance with set industry standards. To purchase the bitumen pump of premium quality, you need to look out for a reliable bitumen pump exporter or supplier in the market. People can also trust a reputed bitumen pump supplier in Gujarat to fulfill their bulk and urgent requirements.